How much time do you spend managing email on a weekly basis? I'm talking about responding to inquiries and answering questions related to your photography business. I think for all of us, any amount of time is too much. This post teaches strategies for moving tasks out of email, speeding up response, and how to answer emails. Everyone's goal is to get out of email quickly, so migrate people to your websites for Q&A.

Customer service is one of the easiest ways to make a positive impact on your clients and to get them to tell all their friends to hire you, so mastering this aspect of your business of the utmost importance.
I couldn't agree more with the quote above, taken from one of my favorite ebooks: The Go-To Guide for Client Emails. People expect a quick, personal, and professional email response or they will take their business elsewhere. The challenge is balancing quality communication against the huge time involvement it takes to do so. Sometimes I find myself screaming at the computer "If only the emails would stop!" It led me to think about how to manage email more effectively. Here's what I came up with…
Everyone's Goal is to Get Out of Email Quickly
Have you ever observed yourself checking email? I treat email as an urgent task, and it stresses me out quickly. I tend to skim everything as fast as I can, overly eager to click that delete button and clean out my inbox. My average time per email is probably 10 seconds. However, if I click through to a website I will spend more time there (1-3 minutes) because I don't mind spending time on the web. I think this is a common rule:
People spend more time reading a webpage than reading an email
Here's an A-HA moment – get people out of email and onto your website if you want their attention. Thinking two steps ahead, we need to prevent those clients from emailing you (and you emailing back and them skimming the message) and instead get their questions answered on your website.
How to Cut Down on Email Questions
I think we've all been there – you get the same question in email three times in the same week. Or you get questions that are already answered on your website somewhere. The best thing you can do is make your answer publicly available on the web. Not only does it train people to search for the answer before they email you, but someone else with the same question will find their answer before they ask it.
I move email Q&A out of email so I can answer publicly for everyone, and at my convenience. I answer most questions via Facebook, Twitter, blog comments, and forums. I even updated my contact page to tell users I'd prefer they ask me questions via those avenues. I find it answers everyone's questions at the same time, builds my online presence with more information, and keeps my stress level down because people expect a less-immediate answer.
How to Respond Quickly
I check email almost exclusively from my phone. The difficulty in doing this is that I refrain from a complete answer since I hate typing on a little digital phone keyboard that is 1/10th the size of my laptop one. To combat this predicament, I have emails drafted with links to answers for users most common questions. You can take it one step further by aggregating all those common questions and answers into an FAQ page. It is much faster to respond with a link than to type out a custom answer in email. The more questions you answer publicly, the easier email becomes.
Sometimes I'll answer someone's question my commenting on my own blog post and then shoot over a quick email to say "I've answered your question over here instead of in this email." Then I get branding in front of all the people in the forum. You get the idea.
When You Don't Know How to Respond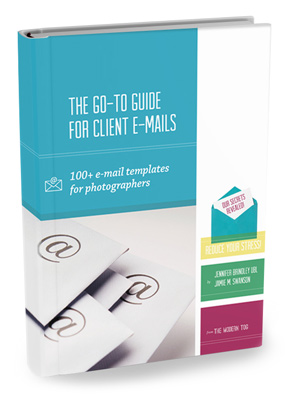 Some questions are new or difficult and you're not sure how to respond. Fortunately we have the expertise of Jamie Swanson and Jenn Brindley to rely on. They've put together an ebook with an incredible 100+ email templates for photographers. You can get 10 free samples here. Here are some of the draft emails they include:
How to respond to wedding inquiries
How to handle two clients who want the same date
How to justify your prices to someone who says you are too high
A client wants to barter for all or part of your services
How to let a client know you cannot work within their budget
How to explain to a client that digital files have value
My boss / colleague wants to hire me. Is this a conflict of interest?
How to respond when someone is trying to modify your contract
How to respond when parents or other family members inquiring for details about your clients
Jamie and Jenn have literally forecast every possible email you're going to get and written a professional response you can use to maintain perfect customer service. If you used just one of these email templates you'd save enough time to pay for the whole product.