Most of you have probably heard arguments for blogsites versus a traditional website plus a blog. Today I'm going to talk about a few specific reasons why I believe an all-in-one blogsite is the answer, and they all revolve around user experience. Most important with user experience is ease of use and intuitiveness. I like to use the Apple iPad as an example, due to the fact that my 8-year-old niece had hers mastered with no instructions in about a day. And that was when she was only 6-and-a-half.



When someone visits your website, everything they want to know about you, and everything ­you want them to know about you, should be at their fingertips. The navigation should be as intuitive as swiping from page to page of applications on an iPad is for a 6 year old is. A blogsite provides the perfect platform for ease of use, intuitiveness and simplicity.
Make your web presence easy to find
Providing just one place for users to visit, rather than a separate website and blog, is where the ease of use begins. The easier you make it for them to find you and to find the most relevant and up-to-date information about you, the happier they will be (subconscious as it may be) and more likely to make the next click (yes, each click they make counts!). By condensing your website and blog to an all-in-one blogsite with one panel of navigation, you've already made it one step easier for the user.
Create simple and intuitive navigation
Because there's no repeated information, or information found only on the website or only on the blog, users who visit your blogsite do not have to go back and forth to find the information they're looking for. It's all under a single navigation panel, easily accessible (another point for ease of use!), and intuitive (users expect the information to be there). Organize your navigation panel and put some thought into page titles and the "parent page" that those pages belong to. For example, pages like "about me", "rates" and "your session" can all fall under "details", easy to find and an intuitive title when someone is looking for more information.
Encourage interaction and exploration
Last but certainly not least, with one central "hub", there is more opportunity for visitors to see all of your work. For example, if they come to your blog post from a link you posted on Facebook, they might look at the post and then click your portfolio or about me page tab to see more and learn more about you. Or, if they visit your website to view your portfolio, they may see the blog tab, click, and see more of your recent work and/or subscribe to see more. While visitors have come to your site for one reason or another, the ease of use may encourage them to explore a little more and stick around a little longer, and will leave users with a good impression. Think of your blogsite as a one-stop location where visitors can find all of the information they're looking for and more. Prospective clients may not know exactly what to look for, but a blogsite encourages exploration and leads users to the information necessary to really get to know you and your work.
Just plain easy
The reoccurring theme you've probably noticed is easy, easy, easy! I truly believe that the best way to create the best user experience for your website is to make it easy for your visitors, and as outlined above, through the combination of your website and blog to an all-in-one blogsite.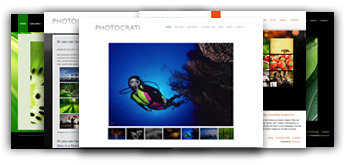 I use the Photocrati super theme (affiliate). Photocrati is a uniquely powerful WordPress theme used by over 12,000 photographers and visual artists. All-in-one solution – website + galleries + blog where you can sell images and customize over 60 beautiful styles.